Nail disorders become more common as people age. Some mild conditions, such as brittle nails, can be a result of the normal aging process. Other normal changes you may see with aging include:
yellow and opaque coloring
thickened and hardened nails
more frequent ingrown toenails
Nail conditions also can be symptoms of serious chronic illness or a nutritional deficiency, which are more common in people who are older. Experts encourage people who notice a significant change in their nail health to discuss it with their doctor.
Poor nail health is more common in people who are older. This is because nails become thicker when people are older. Thicker nails are more likely to become infected. They can also become more brittle, and the risk of ingrown toenails becomes higher. In addition, some conditions that affect circulation, such as diabetes, can occur more often in people who are older, which decreases sensitivity and leads to greater chance of injury. The use of medications also increases in older people, and some (including minocycline, chloroquine, zidovudine, and bleomycin) may cause nail discoloration; retinoids like isotretinoin may cause nails to become more brittle. Nails grow slower with age, and may become discolored. All of these conditions can contribute to poor nail health.
Continue Learning about Healthy Nails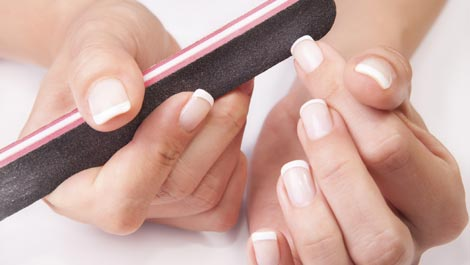 For healthy fingernails, pamper them daily with a gentle buffing or a massage. This increases circulation to the nails, keeping them from cracking and peeling. Rubbing petroleum jelly, vitamin E or a cuticle cream into the cuticle...
s at night will keep them moisturized and also promote nail strength. Wear gloves when washing dishes or cleaning to prevent nails from becoming brittle, and don't use nail polish remover that contains formaldehyde or acetone, both of which are drying.
More