Dents and grooves on fingernails and toe nails can be caused by several things including stress, vitamin deficiencies, and cysts from arthritis.

It depends on the exact characteristics and appearance of the nail. One of the most common problems I see in my practice is a deep groove in the fingernail accompanied by a large cyst over the end joint of the finger, near the nail.

The cyst puts pressure on the tissue that the nail grows from and causes changes in nail appearance. The groove resolves when the cyst goes away.
Continue Learning about Healthy Nails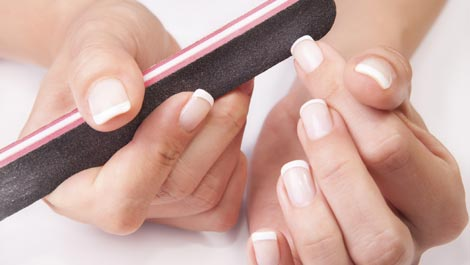 For healthy fingernails, pamper them daily with a gentle buffing or a massage. This increases circulation to the nails, keeping them from cracking and peeling. Rubbing petroleum jelly, vitamin E or a cuticle cream into the cuticle...
s at night will keep them moisturized and also promote nail strength. Wear gloves when washing dishes or cleaning to prevent nails from becoming brittle, and don't use nail polish remover that contains formaldehyde or acetone, both of which are drying.
More