Making lists not only de-clutters your brain and frees up mental energy, but it maximizes your use of "found time." Found time are those 15 minutes you have because your meeting finished early, an appointment cancelled, or you are waiting for your kids to get out of soccer practice. Instead of wondering what you should do next, the list allows you to maximize this time by knowing which phone calls to make, which errand you can squeeze in, or what information you needed to look up off the Internet. Keep your list with you. You get a lot done without actually adding any more appointments to your day, and you can de-stress at the same time.

List-making gives us back our sense of control. I love crossing items off a list. It makes me feel like I have accomplished something and gives me added satisfaction. I also don't have to wonder if I have completed a task. If it is crossed off, it is out of my mind.

Get a little help from your friends and family. Laying out the things you need to do in the short term and long term organizes your life in a way that allows you to ask for help. I have come to realize that despite the fact that I like to stay in control and do things myself, in order to stay sane and ultimately reach my goal of a balanced life, I need to ask for help. Instead of keeping everything in my head, making a list lets me delegate. How many times have people asked if they could help you at work or at home and you don't know where to tell them to start? You know you could use a hand but have not organized your thoughts enough to let them help you.

Lists are not all work. Even if you are checking off accomplished tasks right and left, if your lists contain only chores, it can become drudgery. Don't forget to put something fun on your list to look forward to. It can be as simple as a quick call to a friend, meeting your husband for a drink alone, or taking 10 minutes to preview your next vacation destination on the Internet. If you are as thorough as my mother, your daily list will end with, "Go to bed." She has accomplished her day, and her reward is rest.

Finally, lists are not only about the present and future. They are a useful tool for remembering the joy in life, the things that make us happy, accomplishments you are proud of, your good-work list, and your reasons to celebrate. This kind of list can help you pause in a busy life to activate your bliss.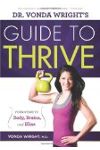 Writing down a to-do list takes just a minute and saves you more time than that. Creating a clear (and realistic) game plan for what you want to accomplish helps you tackle your day, so you don't get bogged down in the unimportant details that eat up your time. The payoff: less stress and more time to enjoy the coffee you just poured.
Continue Learning about Healthy Habits