Busy lifestyles can have a negative effect on our well-being. Juggling a family and a career, while still finding time for social activities and personal time, often means all but the most important things get pushed aside. Hectic schedules can lead to minor inconveniences, such as missed meals, or more serious issues such as stress and fatigue. All these things can have a negative impact on women's health. Additionally, health screenings such as mammograms and Pap smears often become less of a priority when our to-do list becomes unmanageable.
Research shows more women feel they are too busy with work or family commitments to see their doctor, even when they are not feeling well. It's important for women to take care of themselves first in order to be the best person possible for the people in their life.
Trinity Health is a Catholic health care organization that acts in accordance with the Catholic tradition and does not condone or support all practices covered in this site. In case of emergency call 911. This site is educational and not a substitute for professional medical advice, always seek the advice of a qualified health care provider.
The single greatest threat to our lives is not the terrorists putting poison in the water, or the pollution in the air: The greatest threat to our lives and our well-being is our lifestyle. Ask people how they are doing these days, and the first word you will hear is "busy." Probe deeper, and soon you may see frustration as they say, "exhausted." We do more, go more and buy more. Our gas tanks are full, our bank accounts are full and our closets are full, but we are running on empty. Surveys say we don't get enough sleep, we eat more meals on the run than at home, we take too many pills and, worst of all, we don't spend enough time with our children and the people we love.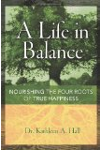 Continue Learning about Healthy Habits