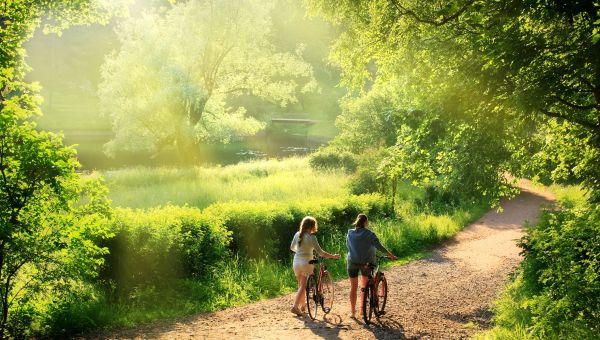 Spending time in the great outdoors can bring more positivity to your life.
The great outdoors can do wonders for your body and soul. Research shows it can decrease arterial stiffness; improve lung function; lower blood pressure and levels of the stress hormone cortisol. And in a new study, researchers found being around even a bit of green can transform your outlook.
They tracked the impact of nature on the mental health of 300+ adults in Philadelphia: For one group living near 37 abandoned plots of land, they cleared trash, planted trees and grass and kept the area maintained; for another group living near 36 abandoned lots, they removed trash and maintained whatever grass was there. For a third group living near 37 other abandoned plots, they did nothing. Over three years, the adults living near the spaces with new plantings of grass and trees saw depression and a sense of worthlessness decline by more than 40 percent.
So, if you're an urbanite or tied to a desk indoors, try to spend three hours weekly in nature. And bring plants indoors. NASA says they can remove 87 percent of airborne toxins in 24 hours. That'll boost your outlook.
Medically reviewed in March 2020.