Garlic is a vegetable (Allium sativum) that belongs to the Allium class of bulb-shaped plants, which also includes onions, chives, leeks, and scallions. Garlic is used for flavoring in cooking and is unique because of its high sulfur content. In addition to sulfur, garlic also contains arginine, oligosaccharides, flavonoids, and selenium, all of which may be beneficial to health.

The characteristic odor and flavor of garlic comes from sulfur compounds formed from allicin, the major precursor of garlic's bioactive compounds, which are formed when garlic bulbs are chopped, crushed, or damaged. Bioactive compounds are defined as substances in foods or dietary supplements, other than those needed to meet basic nutritional needs that are responsible for changes in health status.

This answer is based on source information from the National Cancer Institute.
Garlic (Allium sativum) is a member of the lily family and is cultivated worldwide. The garlic bulb is the most commonly used portion of the plant and is composed of individual cloves enclosed in a white, parchment-like skin. The teardrop-shaped garlic bulbs vary in size; however, they usually average around two inches in height and two inches in width at their widest point. Elephant garlic has larger cloves and is more closely-related to the leek.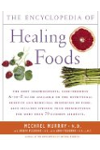 More About this Book
Encyclopedia of Healing Foods
From the bestselling authors of The Encyclopedia of Natural Medicine, the most comprehensive and practical guide available to the nutritional benefits and medicinal properties of virtually everything...
Continue Learning about Healthy Foods & Cooking