Being wheat-free means avoiding processed foods and eating real, single ingredient foods (meat, produce, nuts/seeds). Watch as I share some wheat-free foods and explain how you can still enjoy baked goods.
The following are examples of wheat-free foods:
Beverages and formula:
Milk
Fruit juice
Most carbonated drinks
Coffee
Tea
Dairy products:
Cheese
Cottage cheese
Cream
Custards
Milk
Pudding
Yogurt
Eggs, meat, fish, and poultry:
All plain eggs, beef, chicken, fish, ham, lamb, pork, turkey, or veal without breading.
Luncheon meats or cold cuts that are 100% meat without wheat fillers.
Fruits:
All baby food fruits without wheat flour or starch
All fresh fruits and juices
Canned and frozen fruits without wheat flour or starch
Vegetables:
All fresh, canned or frozen vegetables without wheat flour or starch
Breads, cereals, and pasta:
Bread and rolls made with rice, potato, corn, or other non-wheat flours
Hot cereals such as cornmeal, oatmeal, or rice cereal
Cold cereals made from rice or corn; make sure wheat starch is not in the ingredients list
Crackers such as corn cakes, corn tortillas, rice cakes, and crackers
Pasta made with corn, rice, quinoa, or other non-wheat flour
Popcorn
Rice noodles
Soups:
Clear soups and consommés without wheat flour or starch
Commercial or homemade soup with vegetables and rice without wheat flour or starch
Fats:
Bacon
Butter, coconut butter, or nut butters without wheat thickeners
Mayonnaise (check label -- some brands contain wheat)
Nuts
Oils and shortening
Pure chocolate
Salad dressings that are wheat free
Whipped topping
Desserts:
Wheat-free cakes and cookies
Custards and pudding without wheat flour or starches
Frozen yogurts, sherbets, and ice cream without wheat starches or wheat flours
Fruit Roll-Ups and fruit snacks without wheat thickeners
Fruit and flavored ices
Hard candy, chocolate, gummy candy, cinnamon bears, Tootsie Rolls, Snickers, rolls, and gum without wheat thickeners
Homemade treats without wheat thickeners
Gelatin
Juice bars and Popsicle
Condiments:
Ketchup
Mustard
Pickles
Steak sauce
Miscellaneous:
Coconut
Jams and jellies
Pure seasonings and herbs
Vanilla powder
Continue Learning about Healthy Foods & Cooking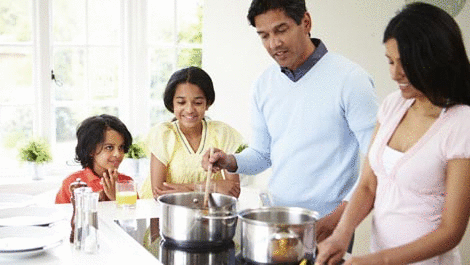 Do you want to cook healthier? With some simple tweaks, you can lighten up regular recipes for brownies, casseroles, and other tasty treats. Plan healthy meals for breakfast, lunch and dinner by learning about healthy food substit...
utions. For instance, you can sprinkle powdered sugar on cakes instead of using frosting. Reduce fat and calories in baked goods by cutting the fat ingredient such as butter or margarine by one-half and substituting a moist ingredient like applesauce, fat-free sour cream or orange juice. Read on to learn more tips about healthy foods and in no time you will be cooking healthy recipes for you and your family.
More