When shopping at the market, look for produce that is local and seasonal first. That typically guarantees the most delicious options. While you may be so inclined to buy perfect-looking produce, it doesn't always mean it's delicious. So don't shy away from ugly fruit and vegetables, mostly found at the famers market (as they are typically rejected by large grocers because they miss the mark in terms of size, shape and color). In fact, sometimes the smaller produce is actually tastier. And, for freshness—look for nothing too wilted or banged up.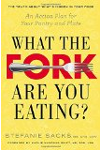 More About this Book
What the Fork Are You Eating?: An Action Plan for Your Pantry and Plate
It's labeled "natural," "grass-fed," or "free-roaming;" yet it might be anything but. It's time to find out what you're actually eating... When your groceries are labeled "low-fat," "sugar-free," and even "natural" and "antibiotic-free," it's easy to assume that you're making healthy choices. Yet even some of those seemingly wholesome offerings contain chemical preservatives, pesticides, and artificial flavors and coloring that negatively affect your health. In What the Fork Are You Eating?, a practical guide written by certified chef and nutritionist Stefanie Sacks, MS, CNS, CDN, we learn exactly what the most offensive ingredients in our food are and how we can remove (or at least minimize) them in our diets. Sacks gives us an aisle-by-aisle rundown of how to shop for healthier items and create simple, nutritious, and delicious meals, including fifty original recipes.  
Buy vegetables and fruits that are uniform in color. Avoid buying produce with bruises or discolored areas. Thumping or shaking produce will not indicate ripeness. Instead, experts suggest feeling the product. Avoid produce that is mushy, has soft spots, or has abnormal shriveled areas.

Smell it to be sure there is no sign of mildew or mold. Sniff fruits to determine freshness. A strong scent means the fruit is ripening nicely.

The deeper the color, the more nutritious your vegetable or fruit is. For instance, darker, leafy vegetables, such as spinach, have more nutritional value than iceberg lettuce.

The United States Department of Agriculture (USDA) has established grade standards for most fresh fruits and vegetables. Not all produce is graded, however. "U.S. Fancy" is the top grade, while "U.S. No.1" is the most common designation. "U.S. No.2" and "U.S. No.3" both mean lower quality.

A good tip for finding great-tasting produce is to buy it when it is in season.
Choosing good fruits and vegetables is important to enhance your eating experience and keep you coming back for more. Nobody likes wilted lettuce and wimpy asparagus.
As it turns out, your eyes and nose can help you in the quest to bring home delicious produce without ever tasting it. Try these tips to choose the best fruits and vegetables at the market:
Select fruits and vegetables that are in season. So, that means strawberries and asparagus in the spring, peaches in the summer and Brussels sprouts in the fall and winter.
Whenever possible, choose produce that's grown locally or within your region. This is a great way to get the most nutrition bang for your buck! It also supports your local economy.
Select fruits and vegetables that are firm, free of cuts or bruises and excess moisture.
Do a smell check on fruits like cantaloupe, strawberries and peaches. These fruits tend to be the most fragrant when they are at their most flavorful.
Choose leafy greens that are sturdy and a deep green color. Stay away those that have started to turn yellow or brown.
Continue Learning about Healthy Foods & Cooking