Tomatoes are one of the foods most commonly associated with allergic reactions. Tomatoes belong to the nightshade (Solanaceae) family, which includes eggplant, peppers, and potatoes. Anecdotal case histories link improvement in arthritic symptoms with removal of these foods. Although no case-controlled scientific studies confirm these observations, some individuals consuming nightshade-family vegetables experience an aggravation of arthritic symptoms and may benefit from limiting or avoiding these foods. Tomatoes contain moderate amounts of oxalate. Individuals with a history of oxalate-containing kidney stones should avoid over consuming them. Finally, since tomatoes are among the foods on which pesticide residues have been most frequently found, we recommend choosing tomatoes that have been grown organically.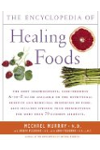 More About this Book
Encyclopedia of Healing Foods
From the bestselling authors of The Encyclopedia of Natural Medicine, the most comprehensive and practical guide available to the nutritional benefits and medicinal properties of virtually everything...
Continue Learning about Healthy Eating Guidelines