If you want to indulge in something like dessert, you could get a couple of dishes and share them with the table. Sometimes desserts are so rich that just having a few bites can be satisfying enough if you're mindful and enjoying the food. Oftentimes when we are eating, we are thinking about what we want next and not enjoying what is in front of us. If we can enjoy that moment in that food, we can be satisfied with a lot less.
Do you love chocolate? Is ice cream your favorite treat? Are you a cookie monster? Then don't deprive yourself entirely of your personal comfort food. You'll only end up caving in and gobbling more than you should at some point. Actually, chocolate is good for you in reasonable amounts. Research has shown that it boosts your brain power and also acts as an aphrodisiac, which must be why it's traditionally been a lover's gift. And as for other sweets and even fatty or salty snacks such as potato chips and pretzels, if you discipline yourself to enjoy a moderate amount now and then there will be no harm done.
Sure, but moderation and portion control are key.
Certainly, enjoy foods that you love. If your favorite foods also tend to be higher in calories and low in nutrients (think cookies, cakes, chocolate, chips, etc.) then enjoy them occasionally in modest portion sizes. When eating these types of favorite foods try these wise-eating tips:
Don't buy large packages of these types of foods. When you have a lot, you're more likely to eat a lot.
Serve yourself a portion instead of eating directly from the package. This can help you stick to a reasonable portion size.
Don't keep snacks and treats like this where they are frequently visible, like the kitchen countertop. Out of sight, out of mind.
Don't eat these foods while distracted (for instance while watching television or reading the newspaper). In order to fully enjoy eating your favorite foods, pay attention as you eat.
Indulging in what you love once in a while is necessary. Life is about balance. Eating is about balance. We are a society bent on extremes. If we can focus on whole fresh food 70 to 80 percent of the time, then that is a superb start. And dive into the "can't live withouts" mindfully.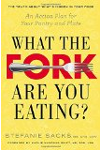 More About this Book
What the Fork Are You Eating?: An Action Plan for Your Pantry and Plate
It's labeled "natural," "grass-fed," or "free-roaming;" yet it might be anything but. It's time to find out what you're actually eating... When your groceries are labeled "low-fat," "sugar-free," and even "natural" and "antibiotic-free," it's easy to assume that you're making healthy choices. Yet even some of those seemingly wholesome offerings contain chemical preservatives, pesticides, and artificial flavors and coloring that negatively affect your health. In What the Fork Are You Eating?, a practical guide written by certified chef and nutritionist Stefanie Sacks, MS, CNS, CDN, we learn exactly what the most offensive ingredients in our food are and how we can remove (or at least minimize) them in our diets. Sacks gives us an aisle-by-aisle rundown of how to shop for healthier items and create simple, nutritious, and delicious meals, including fifty original recipes.
Continue Learning about Healthy Eating Guidelines