One of the primary causes of the risk factors for heart and circulatory diseases as well as diabetes in children is a poor diet. A diet that is high in sugar, sodium, and fat and low in fiber -- in other words, a typical fast-foot diet -- offers little nutritional benefit and can do a lot of damage to your child's health. There's nothing theoretical about these dangers.

Nutritionists and physicians have reported that their youthful patients are being diagnosed in alarming numbers with high cholesterol; high blood pressure (obese children are more than twice as likely to develop hypertension); fatty liver, a precursor to cirrhosis; obstructive sleep apnea, a condition in which excess flesh around the throat blocks the airway, causing loud snoring and a chronic lack of oxygen that can damage the heart and lungs; type 2 diabetes (one in four overweight children shows signs of the disease); and a myriad of other diseases, including some cancers, that used to be associated only with adults.

As recently as 1990, less than 4% of children with diabetes had type 2. Now the American Diabetes Association reports that as many as 45% of newly diagnosed cases of diabetes in children are type 2. That is a truly shocking increase, especially when you consider that it is largely preventable.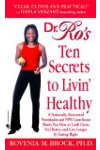 More About this Book
Dr. Ro's Ten Secrets to Livin' Healthy
In this one-of-a-kind book, Dr. Rovenia M. Brock—known as Dr. Ro™ to fans of Black Entertainment Television's Heart & Soul—reveals practical, satisfying ways for African American women to eat...
Continue Learning about Healthy Eating For Children & Teens