Don't make your child clean his plate or bowl if he's full, instead save leftovers for tomorrow's lunch. Portion sizes depend on the age, gender and activity level of the individual.
Never say "Clean your plate!" This old parental guilt trip can backfire big time. Yes, children are still starving all over the world, but making your child overweight won't help them a lick. (I always wanted to say "Please send them this" while sliding my plate of liver toward my mother.) So never badger your child to clean his plate. In fact, never force your children to eat. Offer healthy choices, and let your child decide how much to eat, within reason. Don't count calories either. Believe it or not, most kids know how much food their body needs at a sitting and self-regulate their eating.

From The Smart Parent's Guide: Getting Your Kids Through Checkups, Illnesses, and Accidents by Jennifer Trachtenberg.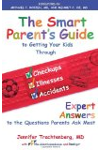 Continue Learning about Healthy Eating For Children & Teens