Once your children are over 4 years old, always keep raisins and nuts on hand. Toss them into cereals whenever your fresh fruit supplies are low, or add them to cereal in addition to fresh fruit for extra flavor. Nuts make a great addition to healthy breakfasts by adding unsaturated fat -- the good kind of fat -- to the meal. A little bit of healthy fat in a meal can help your child feel fuller for longer, and also can help her body better absorb nutrients from the rest of her meal.

If your family is hooked on breakfast meats, opt for leaner ones, such as ham, or limit them to once a week. Traditional breakfast meats tend to be high in saturated fat and/or sodium. You also can substitute high-fat bacon and sausage with lighter chicken or turkey sausage, or experiment with vegetarian sausage or bacon. There are several good choices on the market, but check the label for fat and sodium content, which could still be high in some brands.

If pancakes or waffles are a morning tradition in your family, add several tablespoons of bran to the batter to boost the fiber content. Also, top your hotcakes with fresh fruit purees, yogurt, or a handful of berries instead of syrup and butter.

From Good Kids, Bad Habits: The RealAge Guide to Raising Healthy Children by Jennifer Trachtenberg.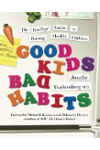 Here are some guidelines based on the daily recommendations of MyPlate (www.ChooseMyPlate.gov) to help you and your family put together a Healthy Eating, Healthy Weight breakfast :
Include at least one selection each from three or more different food groups, choosing portions that fit within the child's or teen's personalized MyPlate daily eating plan.
Eat a whole grain carbohydrate with at least three grams of fiber per serving.
Include a lean protein food and a good source of calcium.
Choose foods that are low in fat and contain less than eight grams of sugar per serving.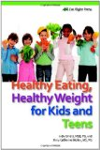 Continue Learning about Healthy Eating For Children & Teens