Here are some tips to decrease sugar in your child's diet that my wife and I use with our own child at home:
Read the labels on the foods that your kids are eating. Even baby foods can have added sugar.
Offer water instead of juice. Sometimes doctors will recommend giving juice to add calories. Talk to your pediatrician about the options. You can flavor it with a little lemon if you like. If you do give your child juice, dilute it by 50% or more with water. It still tastes good, and your kids will become accustomed to it.
Try frozen fruit. There are lots of yummy options, such as blueberries, raspberries, peaches, etc. These frozen fruits often do not have any added sugar and they are very healthy for your kids. Our daughter loves them, and often requests them with her breakfast.
Make smoothies with your kids using frozen fruit, milk, and unsweetened yogurt. I started making smoothies for my daughter when she was eight months old, and she asks for them to this day.
Feed your kids raisins, craisins, "blaisins" (dried blueberries), or other dried fruits, but check for sugar content when buying them. My wife and I bought dried mangoes for our daughter only to find that they were covered with sugar when we opened them up. We simply wash the dried mangoes before we give them to her.
For candy-laden holidays, go au naturel. Try making homemade dried fruit roll ups with no added sugar instead of Christmas and Valentine's cookies, and use cookie cutters to make it fun. For Easter, fill the plastic Easter eggs with dried fruits or other healthy items. Kids love to find the eggs, which is often the more fun anyway than the treat inside. If you can't say no to chocolate, a fantastic substitute for it is carob, with a rich malt flavor not found in most chocolates.
Have healthy snacks on-the-ready. Instead of candies or even fruit, bring vegetables or nuts along with you to feed your kids in the car. Carrots, celery, and other portable vegetables, as well as peanuts, sunflower seeds, and almonds are easy to bring along. When our daughter was teething, she enjoyed eating a carrot even if it took her 30 minutes to eat it. Just remember to be careful and monitor them while they are eating it when they are very young.
Rethink their peanut butter and jelly (PB&J). Use organic or natural peanut butters, or those made from other nuts such as almonds. Avoid introducing them early on to sugar-packed jelly.
Continue Learning about Healthy Eating For Children & Teens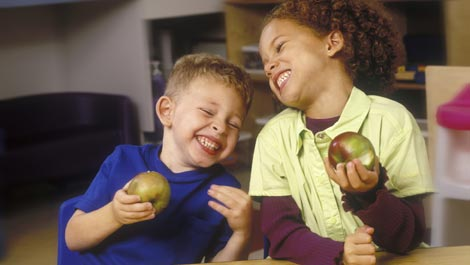 Nutrition is important for healthy child development. Encourage healthy eating by teaching your child or teen correct portion sizes, healthy snacks and the importance of the five food groups. Avoid giving your child food that is h...
igh in calories, saturated fats and added salt and sugar. Find out if your child needs vitamins or supplements. While some weight fluctuation is normal, it could point to an eating disorder ir your child becomes overweight or underweight. Involve your child in preparing healthy recipes for the whole family. Learn more about healthy eating and healthy living for your child with expert advice from Sharecare.
More