Lifestyle choices can have a big impact on the way you age -- diet, exercise, sleep and stress management are all important factors. In this video, weight management specialist Caroline Apovian, MD, shares some tips for optimal, healthy aging.
Lifestyle choices including diet, exercise, stress management and smoking cessation affect how quickly we age. Watch as I discuss how changing your bad habits - like smoking and a poor diet - can slow aging.

Some people are young for their age: They are physiologically and mentally as active and vibrant as someone chronologically younger because they've slowed the pace of aging by making healthy lifestyle choices that can help prevent age-related diseases. Others are old for their age: they have abused their bodies with unhealthy lifestyle choices, causing them to age much faster than they should.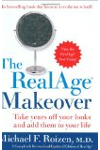 Continue Learning about Healthy Aging