Garbanzo beans also known as chickpeas are actually legumes just like beans or lentils. Garbanzo beans are a favorite of registered dietitians due to its high nutrient content. A cup of garbanzos has as much potassium as a medium size banana. It is also a great source of folate, protein and fiber. Start making garbanzo beans part of your diet.
Garbanzo beans (or chickpeas) are a type of pulse, with one seedpod with 2-3 peas inside. Mature chickpeas can be cooked and eaten cold in salads, cooked into soups and stews, or dried and ground into chickpea flour. Chickpeas are a good source of zinc, folate, fiber, and protein. Chickpeas are also low in fat.
Garbanzo Beans can be purchased canned (already cooked) and dry. The canned beans require little preparation time, but are very high in sodium. Draining and rinsing reduces the sodium levels. Dried garbanzo beans are good in soups, hot entrees and in salads or to make hummus. They require soaking overnight in twice the water and cooking for about 2 hours.
The Latin name for the garbanzo bean, Cicer arietinum, means "small ram," reflecting the unique shape of this legume, which somewhat resembles a ram's head. Garbanzo beans are also referred to as chickpeas, Bengal grams, and Egyptian peas.

Garbanzo beans have a delicious nut-like taste and a texture that is buttery yet somewhat starchy and pasty. A very versatile legume, they are a common ingredient in many Middle Eastern and Indian dishes, such as hummus, falafel, and curries. Though most people think of garbanzo beans as being beige in color, some varieties are black, green, red, and brown.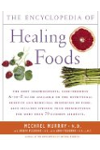 More About this Book
Encyclopedia of Healing Foods
From the bestselling authors of The Encyclopedia of Natural Medicine, the most comprehensive and practical guide available to the nutritional benefits and medicinal properties of virtually everything...
Chick peas or garbanzos are a type of legume. They are popular in Indian, Latin, and Middle Eastern cookery. Garbanzos are tan colored and roughly the size and shape of small hazelnuts. They have a nut like flavor and a very firm texture. Chickpeas can also be roasted for snacks. They are the basis for falafel, a Middle Eastern dish in which the mashed beans are formed into balls and fried.
Continue Learning about Health Value Of Foods