Soy sauce is a good source of vitamin B3. It is also a good source of certain minerals, including iron, phosphorous, and manganese. It also has free amino acids. Tamari is a source of free amino acids and vitamin B2.

Due to their vitamins and amino acids, soy sauce and tamari do confer some nutritional benefit. One concern is that there may be too much sodium in this food. In truth, you consume less sodium when you use soy sauce because the flavor is more penetrating. Reduced-sodium soy sauces have curbed the sodium in soy sauce even further.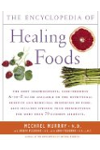 More About this Book
Encyclopedia of Healing Foods
From the bestselling authors of The Encyclopedia of Natural Medicine, the most comprehensive and practical guide available to the nutritional benefits and medicinal properties of virtually everything...
Soy sauce is low in calories with only 8 calories/tablespoon, 1 gram of protein and 1 gram of carbohydrate. Soy sauce is not a good source of soy for the health benefits soy provides. It is important to note that soy sauce is very high in sodium with about 900 milligrams of sodium per tablespoon. The 2010 dietary recommendations suggest that healthy people limit their sodium intake to 2300 milligrams per day and people with diabetes, high blood pressure, or kidney disease, all African Americans, people over the age of 51 should limit their sodium intake to 1500 milligrams per day.
Continue Learning about Health Value Of Foods