People sometimes shy away from peanuts because they are considered high in calories for a serving. But those calories come with over 30 essential nutrients.

A one ounce serving (about 1/4 of a cup) of peanuts has 170 calories. It has 14 g of fat but only 2 g of fat come from saturated fat and there is zero cholesterol. The rest of the fat is heart healthy mono and polyunsaturated fats. You also get 2 g of fiber and 7 g of protein in just one serving. Other nutrients worth mentioning are vitamin E, magnesium, folate, thiamin, niacin, and iron.

They make a great afternoon snack that can fill in nutrient gaps or add them to salads and entrees for added texture and flavor. I like to add a handful to low-fat yogurt and berries.

For more ideas on how to include peanuts in a healthy diet visit the National Peanut Board web site at: http://nationalpeanutboard.org/recipes.php

Though not strictly a nut (they are, in fact, a legume), peanuts contain more protein than tree nuts. They also contain resveratrol -- a potent antioxidant with potential cancer-fighting properties. Though high in healthy unsaturated fats, some peanuts have been cultivated for even higher levels of monounsaturated fat, which may raise levels of HDL and reduce the risk of clogged arteries.
Peanuts are composed of half fat, a quarter protein, and the rest carbohydrate. They contain plentiful healthy monosaturated fats. Morover, they yield good levels of biotin, tocopherols, folic acid, vitamins B1 and B3, and the trace minerals magnesium, phosphorus, and manganese.

1/3-cup of shelled peanuts contains 280 calories, 24 g of fat, and 11 g of protein. Two tablespoons of peanut butter provide 190 calories, 7 g of fat, and 8 g of protein.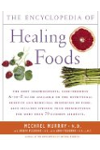 More About this Book
Encyclopedia of Healing Foods
From the bestselling authors of The Encyclopedia of Natural Medicine, the most comprehensive and practical guide available to the nutritional benefits and medicinal properties of virtually everything...
Continue Learning about Health Value Of Foods

A healthy diet is rich in foods with high nutritional value, providing your body with the vitamins, minerals and other food nutrients it needs to protect against disease and maintain a healthy weight. To identify healthy foods, it...
's important to read nutrition labels and know the source of your food. Products advertised as whole-grain, organic or fortified may not necessarily be healthy for you. Find out how to get the most health value from various fruits, nuts, spices, oils and vegetables -- and learn which types of red meat and processed foods to avoid -- with expert advice from Sharecare.
More