In addition to its great taste, one large peach will give you 19 percent of your vitamin C for the day, 11 percent of your vitamin A and 10 percent of your potassium.
So, grab a peach and try these recipes:
Summer shake: Puree peach slices with low-fat buttermilk, crushed ice and a touch of ginger or cinnamon until smooth.
Grilled treat: Place peach halves on the grill on low heat until the fruit is hot and slightly golden.
Colorful salad: Pair peaches with fresh spinach and lime vinaigrette. Add protein by tossing in walnuts, pecans or chicken.
Fruit tea: Dice a peach and add to iced tea.
Another benefit of biting into a peach: dietary fiber. You'll get 3 grams from a single peach.
Peaches and nectarines are good sources of carotenes and flavonoids, such as lycopene and lutein, which give red, orange, and yellow colors to fruits and vegetables. These phytochemicals are particularly beneficial in preventing macular degeneration, heart disease, and cancer.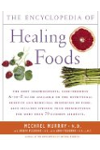 More About this Book
Encyclopedia of Healing Foods
From the bestselling authors of The Encyclopedia of Natural Medicine, the most comprehensive and practical guide available to the nutritional benefits and medicinal properties of virtually everything...
Continue Learning about Health Value Of Foods

A healthy diet is rich in foods with high nutritional value, providing your body with the vitamins, minerals and other food nutrients it needs to protect against disease and maintain a healthy weight. To identify healthy foods, it...
's important to read nutrition labels and know the source of your food. Products advertised as whole-grain, organic or fortified may not necessarily be healthy for you. Find out how to get the most health value from various fruits, nuts, spices, oils and vegetables -- and learn which types of red meat and processed foods to avoid -- with expert advice from Sharecare.
More