Celery contains phytochemical compounds known as coumarins, which are being shown to be useful in cancer prevention, and capable of enhancing the activity of certain white blood cells. Coumarin compounds also tone the vascular system, lower blood pressure and may be useful in cases of migraines. Celery is also rich in potassium and sodium. In fact, celery-based juices consumed after a workout serve as great electrolyte replacement drinks. And celery may also help lower cholesterol and prevent cancer by improving detoxification.
A celery extract standardized to contain 85 percent 3nB has also been shown to produce significant benefits in the treatment of "rheumatism"—the general term used for arthritic and muscular aches and pain. In two clinical studies the efficacy of celery seed extract was evaluated by well-established clinical protocols used to measure the effectiveness of conventional drugs used in arthritis and muscular pain. Study participants included patients suffering from osteoarthritis or gout. In the first study, the subjects were given only 34 milligrams of the celery extract twice daily. The results of the study were extremely positive and quite statistically significant. Subjects experienced significant pain relief after three weeks of use, with an average reduction in pain scores of 68 percent, and some subjects experiencing 100 percent relief from pain.
In a second study, a similar group of patients received 75 milligrams of the celery extract twice daily for three weeks. At this higher dosage, the subjects reported even better results than in the first study. Statistically and clinically significant reductions were noted in pain scores, mobility and quality of life. Subsequent evaluation to explain the benefits noted in these patients indicates that 3nB lowers the production of uric acid by inhibiting the enzyme xanthine oxidase.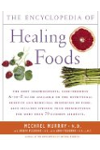 More About this Book
Encyclopedia of Healing Foods
From the bestselling authors of The Encyclopedia of Natural Medicine, the most comprehensive and practical guide available to the nutritional benefits and medicinal properties of virtually everything...
In two clinical studies, celery (and celery seed extract) was successfully used to treat arthritis and muscular pain. It's also a good source of calcium and silicone, vital minerals for your bones.
One cup of celery has 40 mg of calcium. You can eat celery raw or juiced, or you can lightly steam it and add it to soups or stir-fries.
This content originally appeared on doctoroz.com.
Continue Learning about Health Value Of Foods