As French fries come from potatoes, they are technically a vegetable. However, I would not consider them a healthy vegetable for regular consumption. The deep frying removes considerable nutrition and adds fat to the basic potato. If you can't lose the potato (and you shouldn't have to), try slicing or dicing, coating with some oil and baking them in the oven. Sweet potatoes are a great option too, made the same way. But be sure to have some green vegeteables (or other colors) with your starchy potatoes to balance your nutrition.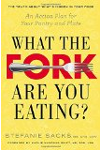 More About this Book
What the Fork Are You Eating?: An Action Plan for Your Pantry and Plate
It's labeled "natural," "grass-fed," or "free-roaming;" yet it might be anything but. It's time to find out what you're actually eating... When your groceries are labeled "low-fat," "sugar-free," and even "natural" and "antibiotic-free," it's easy to assume that you're making healthy choices. Yet even some of those seemingly wholesome offerings contain chemical preservatives, pesticides, and artificial flavors and coloring that negatively affect your health. In What the Fork Are You Eating?, a practical guide written by certified chef and nutritionist Stefanie Sacks, MS, CNS, CDN, we learn exactly what the most offensive ingredients in our food are and how we can remove (or at least minimize) them in our diets. Sacks gives us an aisle-by-aisle rundown of how to shop for healthier items and create simple, nutritious, and delicious meals, including fifty original recipes.  
Technically yes. According to choosemyplate.gov, potatoes are a vegetable. Just because you fry them, doesn't mean you remove the nutrients. By frying you add fat and calories.
Sadly, although a potato is theoretically a vegetable, when I refer to "veggies," I don't include potatoes. That's because they're much higher in calories than all of the others. So I count them as a starch only. That doesn't mean you can't eat French fries, though. It simply means that you can't count them as a veggie.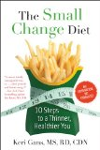 Continue Learning about Health Value Of Foods