Once an emergency brings you to the ER, the details of your insurance coverage will be secondary to treating your problem. So take the time now to make sure you're carrying a current health insurance identification card. Note your insurance company's contact information on your medical history sheet. Review your policy to find out if any pre-authorization is required and what you must do if you're admitted. Also find out which ERs are covered by your plan and whether the company has a phone help line you can call for advice. Be aware, too, that although your insurance company may approve the ER visit, it may not cover the radiologist, pathologist and even the physician who treated you. Discuss what's covered beforehand with your insurance representative so you aren't surprised when you receive a bill for your visit.

Be aware, too, that you might get a bill from a physician or service whose name you don't recognize. Invoices are often processed through a billing company with a different name. But before you pay the bill, be smart and make sure you are paying for services received.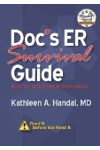 More About this Book
Doc's ER Survival Guide (DocHandal's Guides)
Few people get through life without at least one trip to the emergency room (ER), either as a patient or support person for a family member or friend. Doc's ER Survival Guide is designed to help...
Continue Learning about Health Insurance