Imminent death is a very active process that lasts from hours to days. The dying phase is influenced by the type of terminal illness causing death. For example, a person with congestive heart failure may experience significant chest congestion related to the accumulation of fluid because of their heart disease or someone with dementia may slip quietly into a coma.
Common signs of dying or pointers that the person will die soon are listed below:
1. Near death awareness. For a period, maybe up to a month before dying, the person may start to talk about dying, say goodbye to people, give instructions and dream about their death or family members / friends who have already died.
2. The person stops eating and drinking and may lose weight and become dehydrated
3. They may have severe weakness, stay in bed and may be incontinent.
4. The person may become confused or agitated, a common response to poor oxygenation. Often, people become unresponsive, sleep alot or drift into a coma and cannot wake up.
5. Weak thready pulse and low blood pressure. Because all the organs are shutting down, the heart may not be pumping effectively, so their pulse becomes weak and not easily palpable.
6. Chest congestion as fluids back up into the lungs and the person is not able to cough effectively, so noisy breathing may be present. This often causes a lot of difficulties for families and caregivers as it makes them feel like the person is suffering. There are a number of medications that can be used to dry up the secretions so the congestion does not cause too much distress. Often, this is the first sign that the dying process has started and can sometimes be confused with a chest infection. It is not uncommon to start antibiotics when people have this sign.
8. Agonal breathing: The person is not breathing deeply and may be using their accessory muscles to breath. It looks like heaviness or gasping which is very difficult to watch. The person often looks like they are trying very hard to breath.
9. Apnea, also known as "Cheyne Stokes" breathing, where their breathing pattern is irregular with long gaps in between each breath.
10. Peripheral shutdown. When you touch the persons chest, they may feel warm, or even have a fever. When you touch their hands or feet, they may feel very cold. You may also see paleness or blueness of the fingers, toes and nailbeds. The skin may also be mottled.
Continue Learning about Healthcare Basics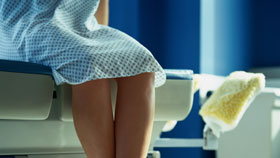 From choosing the right doctors to getting the right tests, how you manage your health care can make a big difference in your long-term wellbeing. Here's what you need to know to be a smart patient and a strong self-advocate. Lear...
n more from our experts about healthcare.
More