Shift changes happen regularly in hospitals, and these 'changes of the guard' can be dangerous. Shift changes have increased recently due to reductions in residency workload, a measure that is generally good, but that also means a greater number of people must discuss your care over the course of your hospital stay. Similar to what you might hear during a game of telephone, communication errors happen often during these stages in your care referred to as handoffs. During a shift change, the responsibility for your care is transferred from one care team to another. The fact that clinicians are tired after a long shift does not help make the process more reliable.
Nursing expert Jennifer Chaikin discusses why hospital shift changes can be dangerous to patients. Watch Jennifer Chaikin's video for tips and information on nursing and over all health.
If you're in the hospital, you should be especially watchful during and right after shift changes; they're the most treacherous times for medical errors.

Aside from meshing with common sense, it's been proven: a study published in The British Medical Journal in 2001 found babies born at night had a greater risk of dying than babies born during the day—but babies born around 9 AM also had a higher risk of dying. The obvious culprit was the shift changes.

The cacophony of coming and going, the transfer of info, the handing off of half-done tasks…it's not hard to see why shift changes up the danger ante. So learn when the shift changes take place in your hospital, and be vigilant.

Always ask the nurse, "Is there anything specific that I should tell the next nurse after you guys do the shift-change staff report? In part, you're really asking, "What should you tell your replacement so nothing happens to me?"

Don't get me wrong—nurses are the most caring, giving people we know, and they fight for you—but they get overworked too, so giving them reminders never hurts.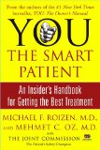 Continue Learning about Healthcare Basics