As the field of health care advocacy grows, there are many well-intentioned, passionate individuals wanting to help patients. That doesn't mean, though, that they are the right person to help you. If you don't have a family member or friend who has the skills and the time to 'step up to the plate' to help you, there are advocates available for you to hire on a per case or per hour basis.
If you want someone to help as you begin a journey with a new diagnosis, it's probably best to have someone who has clinical experience (a nurse, a physician) who can 'get in front' of your case and guide you efficiently and safely through the healthcare maze. The person you work with should have a solid knowledge of and experience in the healthcare system so he/she can take the worry out of your dealing with getting timely appointments, preparing for a second opinion, or explaining to you what's going on and how things work.
If, however, you want help with an insurance claim, the person you need may not have to be a clinician, just someone who can lessen the bureaucracy of an insurance company (no small task!) and who won't take no for an answer.
In the end, if you are hiring a healthcare advocate, the best advice is "let the buyer beware."
A willing friend or relative with a medical background is a great choice to be a health care advocate (someone who acts as your partner in getting the best health care), but your advocate doesn't have to be an expert—just dedicated.

Aside from having enough time to do this job, your advocate also needs to have the right temperament for it. You'll need to work together well. Be careful about tapping the most convenient person if that person clearly is not up for the job; just as you wouldn't deputize the first cousin you meet in the family reunion buffet line, don't automatically pick your spouse just because he or she is nearby, especially if your spouse also happens to be terrified of blood or is the most disorganized person you know.

Someone who's extremely stressed and anguished by needle sticks or your health challenge might make a poor advocate because you need someone who's going to stay objective. Find an advocate who will stay cool and clear-minded in a crisis.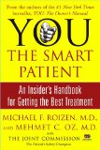 Continue Learning about Healthcare Basics