Cleanliness doesn't guarantee that a hospital has good internal procedures to control infections, but dirty public areas or bathrooms are red flags for potential trouble. Ideally, ask if you can take a short tour of the hospital prior to your surgery. Pay attention to:

• Any odors, including the smell of heavy disinfectants used to mask serious sanitation problems

• Signs of clutter (ancient food trays, messy public areas)

• The physical layout of the floor where you'll be staying (long hallways decrease the nurses' response times to patients' calls)

• High noise levels

• Lack of privacy in patient rooms

• Poor lighting or temperature controls

Consider the fact that more people die from hospital-acquired infections than all accidents and homicides combined. If the hospital appears dirty to you, don't go there. Period, end of story.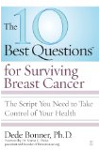 Continue Learning about Healthcare Basics