In some instances, especially if life expectancy is short, family
members can have difficulty speaking to a terminally ill relative. How do you break through safe but superficial conversation to a more intimate level? With a little guidance, it can be easier than you think.
Let me outline how that could happen.

1. Create a private space. Make arrangements for an uninterrupted visit.

2. This is an important time. Extra noise (radios, CD players, cell phones), pets, other people, can easily distract you from the
conversation you want to have.

3. Make certain both of you are physically comfortable; in a position that fosters eye contact and being in touch. Sit near enough to easily touch each other. Ask if it's okay to hold hands, if that's best.

4. Be aware of your emotions as you begin.

5. Explain why it is important to speak to one another.

6. Assure the person that you will end the conversation whenever they want it to end. Agree that it is not your intent to hurt, but be aware that hurt or pain might occur. If it does occur, agree to work toward resolution.

7. Begin the conversation. Speak clearly and slowly. Avoid euphemisms and metaphors. Say exactly what it is you want to say.

8. Provide opportunities for the other person to speak as well. As you listen, suspend all judgment.

9. While the other person is speaking, listen with your full attention. When the person is finished, ask questions for clarification.

10. Let the other person know how you feel about them. Speak honestly. Don't exaggerate. Keep the conversation simple.

11. If you sense any agitation or restlessness as you speak, stop.

12. Express gratitude for the time you spent together and arrange for another visit if desirable.

13. If it is someone from whom you have been estranged and you feel that you would like to continue spending time together, ask whether the other person feels the same way.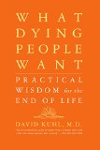 Continue Learning about Healthcare Basics