The hospital discharge is a comprehensive process that involves the following:
Hospital discharge actually starts at admission. When people come into the hospital, nurses collect the medications that they're on at home. Some people come off the medication that they're on normally at home for certain reasons. Closer to discharge, nurses reintroduce those medications back, and, at times, change them based on people's condition. So, that medication process is a very important part of discharge.
Education is a comprehensive part of the discharge process. Nurses sit down with people and go through with them clearly each part of the discharge process, including activity and what they can do, what they cannot do. People are given a lot of paperwork and a lot of information.
At discharge nurses give people the opportunity for follow-ups with the doctors. They'll give them phone numbers and they'll give them appointments.
If people have an issue with a ride, the social worker can work through a method to get them to the place they need to get to.
Trinity Health is a Catholic health care organization that acts in accordance with the Catholic tradition and does not condone or support all practices covered in this site. In case of emergency call 911. This site is educational and not a substitute for professional medical advice, always seek the advice of a qualified health care provider.
As with many of your important medical records, it is always a good idea to get a copy of your discharge summary if you've been hospitalized. As Dr. Oz explains, it is the history of your hospitalization--from admission to discharge and will include diagnostic studies, procedures, or surgeries that were done and their results, consultation notes from specialists who may have been asked to see you, as well as how you are on discharge and where that discharge will be to. It should also include your medications, too.
Don't be surprised, though, if you ask for your discharge summary before you are discharged and it's not ready. After all, you haven't left yet and it will take time for the physician to write the summary.
Recently, we were working with a patient who was discharged on the 16th of the month and on the 7th of the next month, we officially requested a copy of her discharge summary through the Medical Records Department. (Some hospitals call it Medical Information, Health Information, so when you call, just explain to the operator what you're looking for). The staff at the Medical Records department at the hospital told us that it "wasn't ready yet." Seems like a long time but stay with it. Be persistent. It's an important piece of information to have in your files.
If you've been hospitalized, your discharge summary records will include everything noted about your stay, including your diagnosis, test results, and procedures and their results, as well as your condition when you left the hospital. These summaries are put into your permanent medical file.
Doctors sometimes use poetic license to cram a 2-week hospital stay into one paragraph, so smart patients will read their discharge summaries (or ask someone to translate all the gobbledygook) before it's tossed into their medical file for posterity. If that condensing caused some important events from your hospital stay to be missed, you have a right to correct that.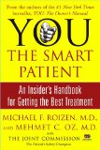 Continue Learning about Healthcare Basics