Many hospitals restrict cell phone use by patients and visitors because of the possibility that the cell phones could affect the functioning of medical equipment. How legit is this worry? It depends on who you ask, but science hasn't exactly shown it to be a huge danger. Research published in the Mayo Clinic Proceedings found that cell phones posed little danger to the functioning of hospital medical devices in a test—they only affected function in about 1.2% of cases and had no effect on half of the machines tested.

Translated, you can probably use your cell phone in your room (or the rest room) without worrying about short-circuiting a patient's ventilator down the hall. I've seen plenty of visitors and patients ignoring the cell phone policies in hospitals, and I've never heard of a case in which a cell phone caused an equipment problem.

Keeping in touch with your family and health care team is often a challenge when you're in the hospital (during those moments when you're not unconscious, asleep, or being sewn, kneaded, or wheeled about by the staff), and making calls via the expensive room phone can be a hassle. So go ahead and use your cell phone, just be discreet about it. And make sure you wipe down the germy cell phone down with a disinfectant before you use it.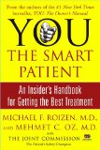 Continue Learning about Healthcare Basics