You've probably seen the drop-in medical centers in big-box stores like Target or Wal-Mart and in drugstore chains like CVS or Walgreens. There are about a thousand of these "convenient care clinics," "mini clinics," or "minute clinics." As a rule, they handle only common ailments and are staffed by physician assistants and nurse practitioners (NPs), who can order tests and write prescriptions. The cost is relatively low, at about $50 to $75 a visit (or an insurance copay), and the wait is not long. No wonder the clinics are popular with the young and uninsured. Less than half of those who use the clinics have a primary care doctor, which means they serve a good purpose.
So is it okay to take your child there on Sunday night if you think he has strep throat? I would advise you to call your doctor first, but if you do go to a clinic, follow up with your pediatrician as soon as possible. If I couldn't get to my pediatrician's office, I'd feel relatively comfortable using one of these clinics for the following common problems:
Swimmer's ear
Rashes, poison ivy, bug bites, hives, or severe sunburn
Pinkeye (conjunctivitis)
Strep throat symptoms (requiring a culture test for strep throat)
Splinter removals
Cuts or bruises that don't require stitches
The American Academy of Pediatrics (AAP) opposes the use of retail clinics for children and adolescents, though, because it feels pediatricians use even minor visits to address family issues and to check on immunizations, among other things. The AAP is also worried about continuity of care, which is a concern I share, too.
In sum, use them if you're in a pinch, but let your doctor know so that he has a record of the illness and what was done about it.
From The Smart Parent's Guide: Getting Your Kids Through Checkups, Illnesses, and Accidents by Jennifer Trachtenberg.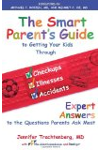 Continue Learning about Healthcare Basics