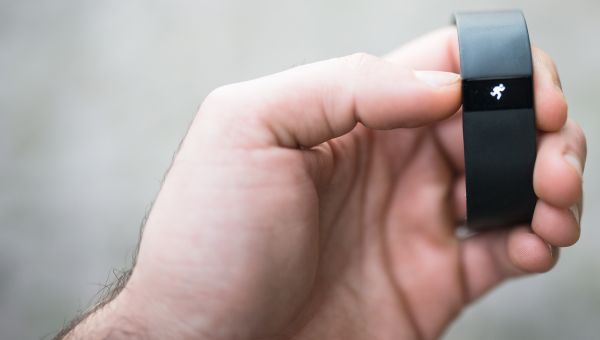 9 Great High-Tech Health Gadgets
1 / 10
Striving to lose weight? Want to sleep better or exercise more? There are tons of gadgets and apps out there that can help. From devices that track your activity (and even your dog's!), to sensors that give insight into your sleep patterns, to a bracelet that actually reminds you when to apply sunscreen, here are our top picks of high-tech health gadgets. 2 / 10

Wearable Activity Trackers

Brand Names: Fitbit Flex, Jawbone UP24, Garmin vivofit, Misfit Shine and others

What They Do: Track your activity day and night

Most devices can track steps, sleep and calories burned. Plus -- they sync with a computer or smartphone.

Approximate Cost: $50-$150

Why We Love Them: Wearables are fun gadgets to help you increase activity throughout the day, especially if you compete with friends and family using the device's app. 3 / 10

An App to Stress Less

Brand Name: Sharecare

What It Does: The Sharecare app uses voice analysis to track your stress levels when you're on the phone. But don't worry -- it won't record your conversations. Have an Android phone? Check it out

Approximate Cost: FREE

Why We Love It: Every time you make or take a call, you'll get insights into who and what increases your stress levels. Learning to manage stress in your relationships can make you more productive and help you get healthier. 4 / 10

Smart Scales

Brand Names: Fitbug WoW, Fitbit Aria, Withings Smart Body Analyzer and others

What They Do: Measure weight, body mass index, body composition and more while syncing data wirelessly to free smartphone apps

Approximate Cost: $75-$150

Why We Love Them: Any tool that helps make weight loss easier is on our wish list! 5 / 10

Headphone Headbands

Brand Names: RunPhones, Tooks Sportband, HVLO Headphones

What They Do: Keep your ears toasty while you listen to your books or music

Approximate Cost: $20 - $60

Why We Love Them: The headphone/headband combination means one less piece of gear to fuss over. (Plus -- wearing a headband over regular headphones can hurt your ears.) 6 / 10

Slouch Stoppers

Brand Names: Lumo Lift, iPosture and others

What They Do: Monitor your posture and notify you if you're slouching

Approximate Cost: $25-$100

Why We Love Them: Sitting pretty isn't just for looks. It can help relieve back pain and stiffness caused by slouching. 7 / 10

Sleep Sensors

Brand Names: Beddit, Withings Aura Smart Sleep System, Emfit QS

What They Do: Track your sleep patterns and sleep environment and send personal feedback wirelessly to your phone

Unlike wearables, these devices stay in the bedroom.

Approximate Cost: $150 - $300

Why We Love Them: Wearable activity trackers may be all the rage, but if you just want better insight on your sleep, these devices are great options. 8 / 10

Sun-Smart Bracelet

Brand Name: JUNE by netatmo

What It Does: Measures your sun exposure throughout the day and reminds you when to apply sunscreen or head for the shade

Approximate Cost: $100

Why We Love It: No more accidental sunburns -- which means younger, healthier skin 9 / 10

Cool Pedometers

Brand Names: Striiv Smart Pedometer, Hammacher Schlemmer Smart Pedometer, MilestonePod

What They Do: Track steps, distance and monitor progress over time

The Striiv doesn't require a smartphone. Hammacher Schlemmer's model plugs directly into your smartphone. MilestonePod syncs wirelessly to your smartphone.

Approximate Cost: $25-$100

Why We Love Them: Unlike old-school pedometers, they provide motivating feedback and can turn getting more steps into a game. 10 / 10

Fido's Fitness Tracker

Brand Name: Whistle Activity Monitor

What It Does: Tracks your pup's daily activity with a small device that attaches to a collar and syncs to the Whistle app on your iOS or Android device

Approximate Cost: $100

Why We Love It: Discovering how much our dogs actually move when we're not around can give us insight into their health and behavior -- and let us know if we need to provide more playtime.

Health Trackers are tools that help you monitor the different factors that can impact your health. Learn about sleep trackers, blood pressure monitors, fitness apps and more from the experts at Sharecare.