Head Injuries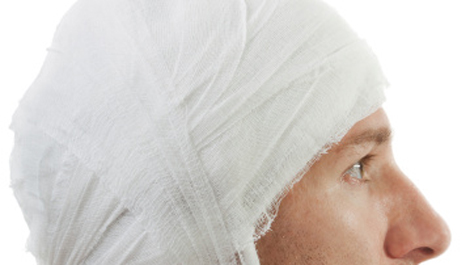 Some of the primary causes of head injuries are motor vehicle, bicycle, and motorcycle accidents and can result in concussions and contusions. Usually, people with serious head injuries lose consciousness. You may notice swelling or broken bones in the skull. However, not all head injuries are obvious at first. Learn more about head injuries from our experts.
Recently Answered
2 Answers

Long-term complications of head trauma include headaches and short-term memory loss.

See All 2 Answers

1 Answer

If you have had a concussion, you are three to six times more likely to get another concussion, and part of the reason is because you have a glucose energy crisis in your brain. Your brain is more vulnerable to another injury when it's not quite running on full power. When this happens, your reflexes are slow, your reactions aren't quite as good and you don't think as well. If you go back out into a situation where you will have to make split-second decisions and are trying to perform athletically at a high level of your ability but you have some of these handicaps, you are more likely to get injured again. You can get better with time if you let the brain heal.

This content originally appeared online at UCLA Health.


3 Answers

If the concussion is recognized and the child is treated for it, he or she will recover fully. Concussions can become more dangerous if there are repeated injuries, especially if another injury happens before the brain fully heals from the first injury. In this situation there is a greater chance of a longer recovery, more severe symptoms and rarely, permanent problems such has chronic headaches, learning difficulties and emotional problems such as depression. Experts believe that having another injury on top of an active concussion can also cause death from brain swelling, but this is extremely rare.

See All 3 Answers

1 Answer

A number of studies have identified that women are more vulnerable to concussion injury than men. In any sport (such as soccer) where women compete as well as men with the same rules, the incidence of concussion injury is greater in women. A variety of factors have been postulated as contributors to this phenomenon. Women have smaller neck sizes, making the head more likely to "whiplash," about 20 percent of women suffer from migraines, and women are more likely to express concerns about their health than men.

1 Answer

If your child is involved in a contact sport, then there is a greater chance of them having a second concussion. In this video, I will discuss ways to help prevent head trauma in kids.

Find out more about this DVD:

If My Child Has A Sports-Related Concussion, Are They More Likely to Have Another? Buy DVD

1 Answer

Around 90% of athletes who sustain a concussion get better within 7 to 14 days. Studies on high school athletes show that it takes them a little longer, around 7 to 21 days. Athletes who have risk factors like previous migraine or a previous history of concussion may take a little longer to recover. In such cases, they need to be monitored carefully to make sure that they are on the right track.

This content originally appeared online at UCLA Health.


2 Answers

It is always best to call 911 if you are not sure. The need for urgent care depends on the severity of a concussion, but it is always the best course to get checked out.
Symptoms of a concussion include changes in alertness, feeling confused, nausea, vomiting and headache.
More serious symptoms include convulsions or seizures, muscle weakness, walking or balance problems and unconsciousness -- continuous or intermittent.
A concussion can result from a fall, sports activities, or car accidents. A jarring of the brain can cause a person to lose alertness. How long the person stays unconscious may be a sign of the severity of the concussion.

See All 2 Answers

1 Answer

No!

Signs and symptoms of concussion may take hours or days to appear.

This is why "It Takes a Village" to care for sport related concussion. Parents, coaches, teachers and even athletes themselves should be aware of delayed concussion symptoms in order to recognize, report, and follow accepted guidlines for the appropriate care of concussion injury.

2 Answers

Children and adolescents who play organized team sports have an increasing risk for concussion, with emergency room visits for concussions between 1997 and 2007 doubling for those aged 8-14 years and increasing even more for those aged 14-19.

Athletes who have received a concussion are three times more likely to suffer another concussion. According to Christopher Giza, MD, a pediatric neurologist at UCLA, subsequent concussions are likely to be longer lasting and more severe. Young athletes -- who include a wide range of abilities and talents -- may be more vulnerable to concussion than professional or college athletes.

See All 2 Answers

1 Answer

A lot depends on the level of concussion management expertise present at the sideline. If there is no one available with a working knowledge of concussion assessment at hand, a conservative approach is the best.

I recommend that before the season starts, each team should appoint a concussion coordinator. Athletic trainers are ideal for this position. In the absence of athletic trainers, team doctors, assistant coaches, volunteer parents or local EMTs are good candidates. During the pre-season preparations, the concussion coordinator is responsible for appropriate concussion prevention items like ensuring proper-fitting protective equipment and that goal posts are properly padded; that athletes, coaches, and parents are properly educated with concussion awareness materials; and that all athletes participate in baseline cognitive testing. The concussion coordinator should become familiar with signs and symptoms of concussion and the use of sideline concussion assessment tools. This person should be available at every game and practice, and have the authority to pull an athlete to the sideline for an assessment if an injury is suspected.

Red flag signs that emergency room referral is appropriate include:

Loss of consciousness more than a minute, lethargy/confusion greater than 30 minutes, weakness/numbness (or other focal neurologic impairment), neck pain, persistent double vision, severe headache, worsening condition during the sideline assessment, or something "is just not right" about the athlete.

Remember that an unconscious athlete should always be assumed to have sustained a neck injury and should not be moved until evaluated by the appropriate medical personel.