Happiness, of course, isn't a totally solo enterprise. Your relationships can have a large impact on your sense of well-being, and your actions and moods can influence the people with whom you come in contact. There's also evidence that when you become happier, it helps those around you increase their own happiness. Results from the large Framingham Heart Study showed that when people became happy, their nearby friends experienced a 25% greater chance of becoming happy, and their next-door neighbors had a 34% increase. In their report in an issue of British Medical Journal, researchers from the University of California, San Diego, and Harvard Medical School concluded that "people's happiness depends on the happiness of others with whom they are connected." So working toward your own happiness can benefit the people around you as well.
Partners in a committed relationships are psychobiologically wired together. That means, where one person goes emotionally, so goes the other. Now that doesn't mean if you are unhappy in moments that your unhappiness will drag your partner down. But it does mean that chronic unhappiness will cast a pall over your relationship. Does that mean that you are solely responsible for your own happiness? No, you're not. But you do have a responsibility to show up for your partner which means your unhappiness is no excuse for being self-indulgent and negligent of your partner. If, of course, your reason for unhappiness IS your partner or relationship, it's time to get into couple's therapy… now!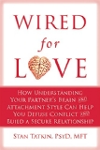 More About this Book
Wired for Love: How Understanding Your Partner's Brain and Attachment Style Can Help You Defuse Conflict and Build a Secure Relationship
"What the heck is my partner thinking?" is a common refrain in romantic relationships, and with good reason. Every person is wired for love differently, with different habits, needs, and reactions to conflict. The good news is that most people's minds work in predictable ways and respond well to security, attachment, and rituals, making it possible to actually neurologically prime the brain for greater love and fewer conflicts. Wired for Love is a complete insider's guide to understanding your partner's brain and enjoying a romantic relationship built on love and trust. Synthesizing research findings on how and why love lasts drawn from neuroscience, attachment theory, and emotion regulation, this book presents ten guiding principles that can improve any relationship. Strengthen your relationship by: Creating and maintaining a safe "couple bubble" Using morning and evening rituals to stay connected Learning to fight so that nobody loses Becoming the expert on what makes your partner feel loved By learning to use simple gestures and words, readers can learn to put out emotional fires and help their partners feel more safe and secure. The no-fault view of conflict in this book encourages readers to move past a "warring brain" mentality and toward a more cooperative "loving brain" understanding of the relationship. This book is essential reading for couples and others interested in understanding the complex dynamics at work behind love and trust in intimate relationships. While there's no doubt that love is an inexact science, if you can discover how you and your partner are wired differently, you can overcome your differences to create a lasting intimate connection.
Continue Learning about Happiness