Aaron Mates, MD from Medical Center of Trinity speaks on high heels and how they may affect the foot. Watch this video to learn more.
High heels, especially stilettos, can harm your feet by forcing them into an unnatural position, leaving your toes to carry the full burden of your entire weight. Overloading the forefoot (the toe area) and bones on the bottom of your feet can, over time, lead to deformed toes, bunions and foot pain. If you don't listen to pain's message, you could end up facing toe deformities and possibly other injuries.
Yes, high heels both cause and exacerbate foot problems. Sprained ankles, strained muscles, heel blisters, callouses, bunions, toe deformities, plantar fasciitis, and back/knee pain are all associated with the constant wearing of high heels. That's why it is important to not wear the same shoes every day and to alternate between heels and flats and supportive shoes. It is also essential to do heel and calf stretches to mitigate pain. Inserts/orthotics can possibly relieve pain instantly, as well.
You may love how your feet look in high heels, but it's likely your feet don't feel the same way. To find out why high heels can harm your feet, watch this video featuring podiatric surgeon Dr. Hillary Brenner.
Watch as internal medicine specialist Dr. Keri Peterson explains why wearing high heels may be harmful.
Wearing high heels can be painful but not necessarily cause foot problems like bunions, says Holman Chan, MD, an orthopedic surgeon at Sunrise Hospital. In this video, he explains the role genetics play in foot problems as well.
Calluses, corns, ingrown toenails and hammertoes all result from cramming feet into steeply arched, unpadded shoes that force the foot forward. This can also irritate nerves on the ball of the foot, triggering neuromas. Despite the discomfort—or downright agony—many women continue to wear high heels and other painful shoes, according to the American Podiatric Medical Association. Unfortunately, once the feet go, so does physical activity. Can you guess what's right behind (or about to be on your behind)? That's right: weight gain.
Continue Learning about Foot and Ankle Conditions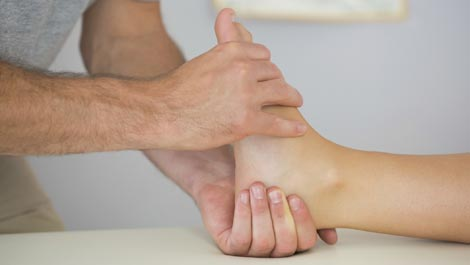 Flat feet, heel spurs, plantar fasciitis are just some of the types of foot and ankle conditions. Different type of therapies are available for the treatment of these conditions -- surgical and non-surgical treatment.