Whole onions should be stored in a cool, dry open space away from bright light. Bright light can turn an onion's flavor bitter. Onions do best in storage when there is air circulation. They can be spread out in a single layer or hang them in a basket. Onions absorb moisture and this can lead to spoilage. Do not store them under the sink or place them near potatoes. Potatoes give off a gas and moisture that can spoil onions quickly. Onions can be stored for three or four weeks. If an onion begins to sprout it will turn mushy. The sprout can be used as a scallion.
Onions should be stored at room temperature, away from bright light, and in an area that is well ventilated. To best accomplish this goal, place them in either a wire hanging basket or a perforated bowl with a raised base so that air can circulate underneath. The length of storage capability varies with the type of onion. Those that are more pungent in flavor, such as yellow onions, will keep longer than those with a sweeter taste, such as white onions, since the compounds that produce the sharp taste are natural preservatives as well. Green onions should be stored in a perforated plastic bag in the refrigerator, where they will keep for about a week. All onions should be stored away from potatoes, as they will absorb their moisture and ethylene gas, causing them to spoil more readily.

The remainder of cut onions should be wrapped tightly in plastic wrap or stored in a sealed container. They oxidize quickly, so you will need to use them within one to two days. Cooked onions will maintain their taste best in an airtight container but still will hold their flavor and freshness for only a day or two. Do not store them in metal bowls or storage containers, as this will cause them to discolor. Peeled, chopped onions can be frozen, but this process will cause them to lose much of their flavor.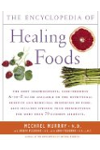 More About this Book
Encyclopedia of Healing Foods
From the bestselling authors of The Encyclopedia of Natural Medicine, the most comprehensive and practical guide available to the nutritional benefits and medicinal properties of virtually everything...
Continue Learning about Food Storage & Health