Eggplants are actually very perishable, being sensitive to both heat and cold. Store the whole plant in a plastic bag and store in the refrigerator, where it will keep for a few days. If you cut eggplant before you store it, it will decay quickly. Once cooked, eggplant can be stored in the refrigerator for up to three days.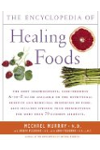 More About this Book
Encyclopedia of Healing Foods
From the bestselling authors of The Encyclopedia of Natural Medicine, the most comprehensive and practical guide available to the nutritional benefits and medicinal properties of virtually everything...
Ideally eggplants should be stored at about 50 degrees. Both cold temperatures and warm conditions will damage it. Store eggplants unwashed and uncut in a plastic bag or in the refrigerator drawer or crisper for three to four days. If the eggplant does not fit, don't force it or squeeze it. Eggplants are tender and delicate and damage easily. The skin is also easily punctured which can lead to decay.
Continue Learning about Food Storage & Health