6 Takeout Recipes That Taste Better Cooked at Home
From pad Thai to pizza, better-for-you versions of takeout classics you can cook at home.
Medically reviewed in October 2021
Updated on August 15, 2022
1 / 7
When we're crunched for time and need to get food on the dinner table, ordering your favorite takeout may seem like the only logical option. Not anymore.
Typical takeout is often loaded with sodium and extra calories from cooking oils, and typically comes in oversized portions, which can encourage overeating. But there's another option to satisfy your hankering for your favorite fast eats. Whip up your own takeout-inspired meal!
Jessica Hargroder, RD, a registered dietitian nutritionist with St. Mark's Medical Center in Salt Lake City, Utah, offers tips for simple ways to recreate your favorites.
Read on before you place your next order.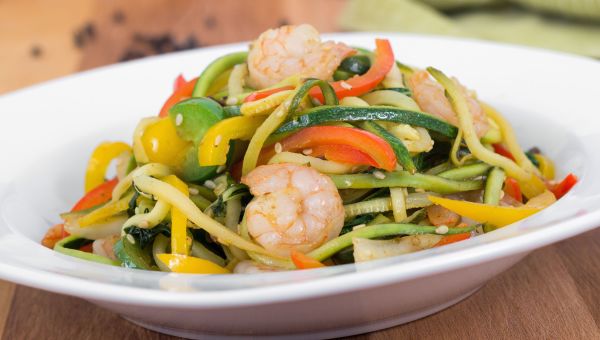 2 / 7
Pad Thai with Homemade Peanut Sauce
This combination of veggies, noodles, and protein doesn't have to be unhealthy, even if takeaway options often are. A regular-sized serving of pad Thai with sauteed shrimp can contain upwards of 1,300 calories. It's also typically loaded with fat, sugar, and sodium.
Instead, stir up homemade pad Thai with fresh veggies, zucchini noodles, and lean protein and cook in healthy fat, then top it with a better-for-you peanut sauce. "I use peanut butter, soy sauce, ½ teaspoon of sesame oil, fresh grated ginger, and a little bit of rice vinegar," Hargroder says.
To make one serving:
Shred one medium zucchini into thin strips, or buy it pre-prepped from your grocery store.
Sauté the zucchini with one cup of your favorite stir-fry veggies—such as onion, bell pepper, and bean sprouts—with a teaspoon of olive oil.
Add a 3-ounce serving of cooked, lean protein, like shrimp or chicken, and top with the peanut sauce.
This delicious meal contains just 360 calories.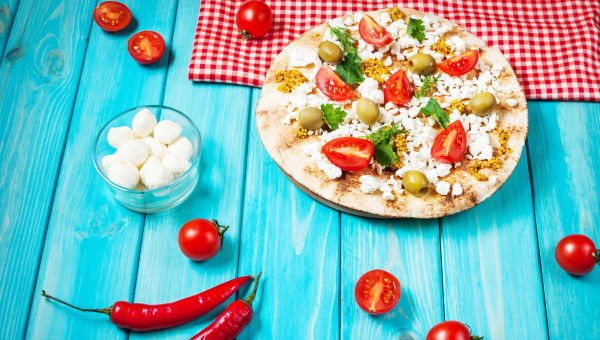 3 / 7
Pita Pocket Pizza
Pizza delivery is a weekly ritual for some, but it's not the best go-to meal if you're trying to be mindful of calories and fat. A typical slice of pizza—one-eighth of a 12-inch pie with sauce and cheese—contains 210 calories and 7 grams of fat. And, let's face it, who can eat just one?
As a healthier comfort food alternative, Hargroder recommends topping a piece of whole wheat pita bread with a tablespoon or two of tomato sauce and a sprinkle of cheese. Pop it in the oven and bake until the cheese is melted and the pita is crispy.
To make one serving:
Top one 6-inch whole-wheat pita pocket with 2 tablespoons of no-sugar-added tomato sauce or tomato paste.
Sprinkle on ½ ounce of cheese, whether feta, cotija, mozzarella, or another favorite.
Add your favorite toppings, like sliced plum tomatoes and green olives.
"Instead of just dousing it with cheese, I like to go for cheese that has more flavor," Hargroder recommends. "I can get away with a lot less feta, Havarti, or cotija than mozzarella."
Before toppings, this personal pizza contains just 215 calories.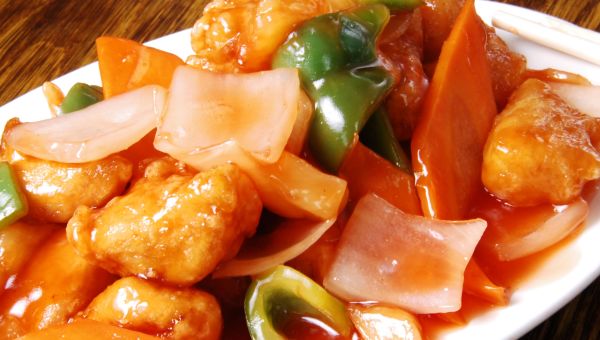 4 / 7
Slow-Cooker Sweet and Sour Pork
This slow-cooker recipe is perfect for satisfying Chinese food cravings. Toss your ingredients into the pot, pop on the lid, and let the slow cooker do the rest. The best part? It tastes like takeout but has fewer calories and fat.
To make one serving:
Season 1 pound of sliced pork loin, or opt for a leaner protein like chicken, with paprika. Brown in a sauté pan over medium heat with a tablespoon of olive oil.
Load your slow cooker with the pork, one chopped onion, a diced green bell pepper, and a 20-ounce can of pineapple chunks. Add a splash each of apple cider vinegar and soy sauce, and ¼ cup of water.
Let simmer on low heat for about eight hours.
Spoon out one-sixth of the batch and enjoy on its own or over ½ cup of cooked brown rice. This meal contains 220 calories, rice and all. That's 110 fewer calories than typical takeout with white rice.
Love your slow cooker? Try these slow-cooker recipes—each under 500 calories. 5 / 7
Better-for-You Burritos
A typical burrito—loaded with rice, beans, chicken, cheese, sour cream, salsa, and a spoonful of guacamole—contains more than 1,300 calories. You can still enjoy the tortilla-wrapped flavor of this Mexican meal without blowing your diet. Just rethink your wrap, avoid overusing oil, and downsize your serving.
To make one serving:
Lay out an 8-inch, whole-wheat tortilla and add ½ cup cooked brown rice.
Layer in ½ cup cooked black beans.
Top with 3 ounces of grilled chicken.
Spoon on 2 tablespoons of fresh salsa, found in the produce section of many grocery stores.
Spread ¼ of a ripe avocado on top.
Wrap your ingredients inside the loaded tortilla.
Your burrito is ready to enjoy, at just 580 calories.
No time to grill your own protein? Hargroder recommends picking up a rotisserie chicken from the grocery store, removing the skin, and using that instead. 6 / 7
Build Your Own Burger
A juicy beef burger with a side of crispy french fries is a staple of many Americans' diets. But there's one big concern: A cheese-topped patty sandwiched between a carb-heavy bun isn't usually kind to your waistline.
Before you order your next double decker, consider creating your own. The first step in lightening this classic is to swap in a leaner patty. "Try to use a leaner ground beef, cooking it and straining off the extra fat, or use ground turkey or ground chicken," Hargroder says.
Swapping fatty beef for ground turkey instantly saves you 30 calories and 2.5 grams of fat per ounce.
To make one serving:
Grill up one lean patty.
Place your cooked burger on a whole wheat bun.
Layer on a slice or two of tomato and a few lettuce leaves.
Spread 1 tablespoon of mustard on the top half of the bun, and place on top of your sandwich.
This filling burger contains just 347 calories. For more low-calorie flavor, try adding a few thin slices of red onion, pickle chips, or a squirt of sriracha sauce.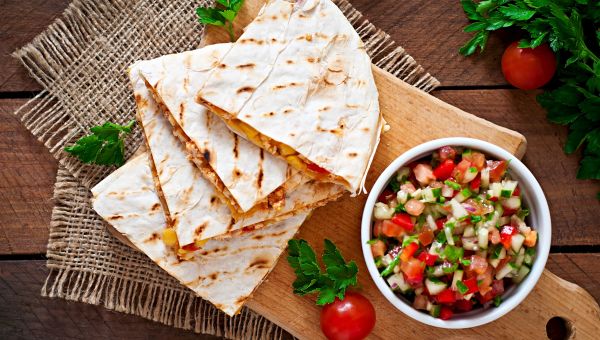 7 / 7
Grilled Quesadilla
Not much satisfies more than having two pieces of flaky tortilla, filled with melted cheese, delivered to your door. But this homemade version might be the next best thing.
To make one serving:
Sprinkle half an 8-inch whole-wheat tortilla with an ounce of cotija cheese.
On the same half, add 3 ounces of grilled chicken or other lean meat.
Fold your tortilla in half and place it in a sauté pan on your stovetop. Cover and warm under low heat until the cheese melts, or lay it on a baking tray in a preheated oven, flipping occasionally.
This completed plate contains 370 calories, compared to the typical 610-calorie quesadilla available on many delivery menus. Replay Slideshow