Broccoli should be stored in the refrigerator. Store it in a plastic bag from the grocery store. It is best to keep it in the vegetable drawer of the refrigerator. Broccoli heads should be firm and dark green. If the florets start to turn yellow, the broccoli is starting to rot. Broccoli can stay fresh for about five days.
Broccoli is very perishable and should be stored in an open plastic bag in the refrigerator crisper, where it will keep for about four days. Since water on the surface will encourage its degradation, do not wash broccoli before refrigerating, or else use washed broccoli the same day you wash it. Broccoli that has been blanched and then frozen can be stored for up to one year. Leftover cooked broccoli should be placed in a tightly covered container and stored in the refrigerator, where it will keep for a few days.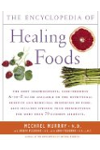 More About this Book
Encyclopedia of Healing Foods
From the bestselling authors of The Encyclopedia of Natural Medicine, the most comprehensive and practical guide available to the nutritional benefits and medicinal properties of virtually everything...
Continue Learning about Food Storage & Health