Until recently, tempeh could be found only in health food and Asian stores. Now that demand has grown, it is found in more conventional markets, usually in the refrigerator or freezer section. Typical varieties include plain and those that include grains and/or vegetables.

Most tempeh has a thin, whitish cover with a few black or gray spots. If you see any pink, blue, or yellow spots, the tempeh may be over fermented. Tempeh can remain in the refrigerator for up to ten days. Always wrap the partially-used package very well and place it back in the refrigerator. Frozen tempeh stays fresh for several months.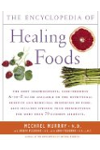 More About this Book
Encyclopedia of Healing Foods
From the bestselling authors of The Encyclopedia of Natural Medicine, the most comprehensive and practical guide available to the nutritional benefits and medicinal properties of virtually everything...
Continue Learning about Food Storage & Health