Turkey is a very good source of protein, providing 65 percent of the daily value (DV) in one 4 oz. portion. Along with protein, turkey is a very good source of selenium, niacin, and vitamin B6 and a good source of zinc and vitamin B12. Almost all of the fat in turkey is found in the skin, and the dark meat is higher in fat than the light meat. The skinless white meat is an excellent high-protein, low-fat food.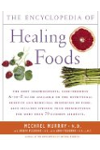 More About this Book
Encyclopedia of Healing Foods
From the bestselling authors of The Encyclopedia of Natural Medicine, the most comprehensive and practical guide available to the nutritional benefits and medicinal properties of virtually everything...
Lean, turkey breast is an excellent source of protein, and a specific building block of protein called tryptophan.

Trytophan has been touted as the reason why people fall asleep so quickly on Thanksgiving. However, a better reason for sleepiness is that people consume excessive amounts of food, and the body needs energy to digest it.

Keep your turkey to 3-4 ounces servings and you will gain the benefits without the sleepiness.
Continue Learning about Food Production & Health