Like other beans, soybeans grow in pods enclosing edible seeds. While we most often think of soybeans as being green, the seeds can also be yellow, brown, or black. The texture of soybeans is so adaptable that they are processed into virtually every imaginable type of food. In the U.S., soybeans are usually consumed as a meat substitute in the form of soy hot dogs, hamburgers, lunch meats, and textured vegetable protein, and as soymilk, tofu, and soy protein.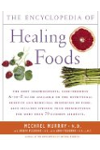 More About this Book
Encyclopedia of Healing Foods
From the bestselling authors of The Encyclopedia of Natural Medicine, the most comprehensive and practical guide available to the nutritional benefits and medicinal properties of virtually everything...
Continue Learning about Food Production & Health