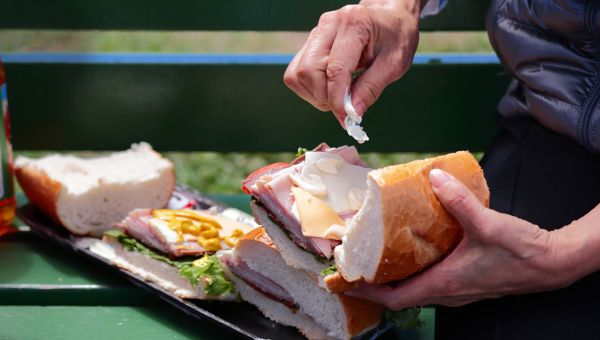 Food poisoning from listeria keeps making headlines in 2015. In April, Blue Bell Creameries recalled all of its products—though it started pulling products from shelves in March due to listeria concerns. And Sabra Dipping Co. pulled over 30,000 containers of its classic hummus due to potential contamination. Learn more about listeria contamination in food—and what you can do to protect yourself.
How does listeria get in my food?
Listeria monocytogenes can be found in soil and water, and is often present in raw foods like uncooked meats. If the bacterium makes its way to a food-processing factory, it can contaminate products via dirty equipment or unhygienic plant conditions. The Centers for Disease Control and Prevention (CDC) advises you to steer clear of items linked to foodborne illnesses—so if you have the hummus or ice cream products in question, toss 'em.
What are the symptoms of infection?
"In healthy adults, listeria will simply cause a limited bout of food poisoning with vomiting and diarrhea. In these cases, symptoms usually start about 24 hours after eating the food with listeria," says Darria Long Gillespie, MD, emergency physician at Emory University Hospital. For those highest at risk, such as babies, pregnant women, older adults and those with weakened immune systems, "symptoms are more severe and can start on average 35 days after eating the contaminated food," Dr. Gillespie says. Complications for pregnant women can lead to miscarriage, premature labor and stillbirth. In the worst cases, listeria may cause serious illness, such as meningitis, and even death.
How is listeria treated?
A blood or spinal fluid test will show if you have listeria. According to Dr. Gillespie, a case of food poisoning from listeria doesn't usually require antibiotics, and symptoms tend to subside after about two days. For more severe infections, antibiotics are needed. Currently, ampicillin is the primary drug for treating the foodborne illness.
How can I avoid listeria?
You can't fully eliminate the risk, but these three tips can help keep you and your family safe.
Steer clear of foods most commonly associated with listeria, such raw meat, cold deli meats, unpasteurized milk, sprouts and smoked seafood.
Wash fruits and veggies and thoroughly cook meats. Be sure to scrub hard produce—like melons—before you cut into them.
Keep your refrigerator at 40 degrees Fahrenheit or lower and the freezer at 0 degrees Fahrenheit or lower. Unlike other infectious diseases, these bacteria can live and grow in colder temperatures.
Medically reviewed in March 2020.