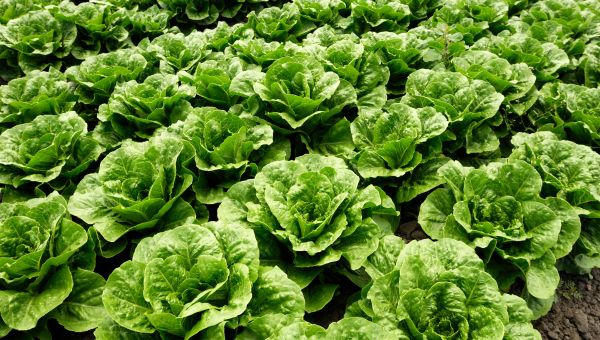 What you need to know about the current outbreak and what you should do to protect yourself and your family.
Romaine lettuce is safe to eat—as long as it wasn't grown in Monterey, San Benito or Santa Barbara, California. The recall linked to the fall 2018 multi-state outbreak of E. coli has been expanded to include red leaf lettuce, green leaf lettuce and cauliflower harvested by Adam Bros. Farming Inc. between November 27 and November 30, 2018.
All recalled foods should be thrown away and not eaten, advises the U.S. Food and Drug Administration (FDA).
Adam Bros. Farming, in Santa Barbara County, the California farm connected to the E. coli outbreak, said it voluntarily expanded its recall of produce out of an "abundance of caution." None of these additional foods have tested positive for E. coli contamination and no illnesses were reported as of December 17, 2018.
The FDA noted that the Adam Bros. recall prompted Spokane Produce Inc. to issue a sub-recall of sandwiches and other products under the Northwest Cuisine Creations and Fresh&Local labels.
After launching an investigation to pinpoint the origin of the romaine lettuce eaten by people who became sick, health officials from the FDA and the Centers for Disease Control and Prevention (CDC), along with state and local agencies, narrowed their focus to a select group of farms in Monterey, San Benito and Santa Barbara counties in California's Central Coast growing regions. San Luis Obispo, Santa Cruz and Ventura counties in California were removed from the list of potential sources of the outbreak.
Scientists—who conducted an analysis of romaine lettuce, soil, water, sediment and animal dropping samples at farms identified during the government investigation—found the strain of E. coli causing the current outbreak in one sediment sample collected from a water reservoir owned and operated by Adam Bros.
Health officials note, however, that these findings do not explain all reported illnesses. As of December 13, 2018, 11 different distributors, nine different growers and eight different farms were potential sources of the contaminated lettuce.
The CDC has warned consumers not to eat any form of romaine lettuce—including whole heads, hearts, bags and boxes of pre-cut lettuce and salad mixes that contain romaine or baby romaine—with a label indicating that it's from Monterey, San Benito or Santa Barbara. Restaurants and grocery stores have also been directed not to serve or sell any romaine harvested in these growing regions.
Any unlabeled romaine products from an unknown source should also not be eaten, served or sold.
If you have any of form of romaine in your refrigerator with a label indicating that it's from Monterey, San Benito or Santa Barbara, you should immediately throw it away—even if it was partially eaten and did not lead to illness. If you're unsure if the lettuce you have is romaine or if it's not labeled with a growing region, don't eat it and throw it away. It's also important to wash and sanitize any drawers or shelves in your refrigerator where romaine was stored.
Health officials noted that romaine grown outside the affected areas of California—including Florida, Mexico and the desert growing region near Yuma—is safe to eat and is not linked to the ongoing fall 2018 outbreak.
What do we know?
The latest outbreak involves a strain of E. coli O157:H7 bacteria, which can produce a dangerous toxin in the body called Shiga.
As of December 17, 2018, the CDC has confirmed 59 cases of illnesses linked to this harmful strain of the bacteria in 15 states, including California, Michigan, Connecticut, Florida, Illinois, Louisiana, Pennsylvania, Massachusetts, Maryland, New Hampshire, New Jersey, New York, Ohio, Rhode Island and Wisconsin as well as Washington D.C. Another 28 illnesses tied to the same strain of E. coli were confirmed in Canada.
Twenty three people have been hospitalized, including two people who developed hemolytic uremic syndrome (HUS), a type of kidney failure associated with the infection. No deaths have been reported.
Keep in mind, there's a lag time between when people are sickened, when they report those illnesses and when the CDC reports confirmed cases. The agency points out that it takes between two and three weeks from the time a person becomes sick with E. coli and when that illness is reported to the government.
A genetic analysis of the E. coli O157:H7 strains tested in this current outbreak are similar to strains of the bacteria linked to a previous outbreak in the fall of 2017, which also affected consumers in the United States and Canada. The FDA noted that there is no genetic link between the current outbreak and the E. coli O157:H7 outbreak in the spring of 2018, which resulted in five confirmed deaths and at least 210 illnesses in 36 states.
Recognize the signs of infection
The CDC advises consumers to be on the lookout for signs of exposure to E. coli O157:H7. The FDA urges consumers with symptoms of an infection to contact their healthcare providers.
Warning signs of the infection usually begin three to four days after exposure with mild stomach pain or diarrhea. As it progresses, symptoms may include severe stomach cramps, diarrhea with blood, vomiting and a low fever.
Those who believe they may be affected should write down what they ate in the week before they started to get sick. This will help inform health officials about the source and the scope of the outbreak.
Most people get better on their own within five to seven days, but the following red flags require immediate medical attention:
Diarrhea that lasts for more than three days or comes with a high fever
Bloody stool
Excessive vomiting that leads to dehydration
Five to 10 percent of people with Shiga toxin-producing E. coli develop HUS. People younger than 5 and older than 65 as well as those with compromised immune systems are most susceptible. If you experience signs of this complication—decreased frequency of urination, extreme tiredness or loss of color in the cheeks or inner eyelids—seek medical help right away.
How is the infection treated?
If you have an E. coli O157:H7 infection, it's unlikely you will be treated with antibiotics. These drugs are used to treat many bacterial infections but they are typically not recommended as a treatment for this illness since the risks may outweigh any possible benefits.
Some studies have suggested that giving patients with E. coli O157:H7 infection antibiotics could increase their risk for HUS.
You can track the latest outbreak information at cdc.gov and fda.gov.