When you call Emergency Medical Services (EMS), remember that there are certain things a dispatcher will need to know in order to get help to you quickly:
The address and location of the emergency (including cross streets and specific directions to the exact location of the emergency).
Your name, phone number, and the number of a nearby phone.
A description of what happened and how many people need help. (It's also a good idea to check the victim for medical information jewelry and to report findings to the dispatcher.)
Stay on the phone until the dispatcher tells you it's okay to hang up. Remain calm and listen carefully - the dispatcher may give you valuable first-aid instructions, including how to perform cardio pulmonary resuscitation (CPR).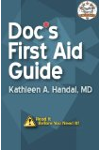 More About this Book
Doc's First Aid Guide: Read It Before You Need It
In a medical emergency, time is of the essence. "Doc's First Aid Guide" is an illustrated, first-aid pocket handbook designed to be used as a quick reference and includes the latest CPR guidelines....
Generally people call emergency medical services via the 9-1-1 number for their community. The 9-1-1 operator will ask you a series of questions. The answers to these questions will assist the operator in determining whether to send paramedics, firefighters and/or police. Common questions include:
1. Why the call has been made and a description of the emergency.
2. Your name, phone number and location.
3. The location of the emergency. (Be as specific as possible including street names, address, major landmarks or cross streets, mile markers.)
4. Information about the person having the emergency including their name, age, gender. The operator will also want to know whether they are injured, breathing normally, responding to voice, touch or pain. They may ask about any medical problems. (It is a good idea to check for a medical alert bracelet or necklace).
Key things to remember:
1. Stay on the line until the operator tells you to hang up. In many areas the operator can trace your location via the phone line. In some areas they can trace your mobile phone location as well.
2. Answer all questions to the best of your ability.
3. Follow any instructions you are given. The operator may direct you in how to administer first aid, for example.
4. Most importantly, stay calm as this will allow you to think clearly and possibly save a life.
Continue Learning about First Aid For Medical Emergencies & Conditions