Obviously, your first call for help should be to "911". Remember, and teach your children, to only call this number in emergencies. An emergency is anything that threatens your life or the life of others. Specifically, how should one call for help? It has been studied that most of our society no longer pays attention for the cry "help", instead to cry "fire". I would say simply, repeatedly calling for help will get someone's attention.
In terms of CPR if you are with an adult in an emergency, immediately call "911then proceed to CPR if needed. If you are with a child, DO NOT leave the child unattended. Repeatedly call for help, or take the child with you to call for help.
How you call for help when helping during a medical emergency should be a consideration. In most cases, the victim will need some type of emergency medical help, be it from Emergency Medical Technicians (EMTs), the company nurse, or a physician at the hospital. If you're not alone, tell someone else to go for medical assistance while you help the victim. In an emergency it's important to remember that every minute counts.

When alone, in certain circumstances, intervention is your priority. However, it is usually best to call Emergency Medical Services (EMS) - 911 in the USA/Canada, 999 in United Kingdom, 000 in Australia - before you intervene, especially if you witness a collapse or come across an unresponsive victim.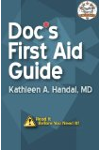 More About this Book
Doc's First Aid Guide: Read It Before You Need It
In a medical emergency, time is of the essence. "Doc's First Aid Guide" is an illustrated, first-aid pocket handbook designed to be used as a quick reference and includes the latest CPR guidelines....
Continue Learning about First Aid For Medical Emergencies & Conditions