You may think that babies don't need to have balance at all since they're not exactly standing or walking in the womb, but the ability to balance is essential for babies, too. In truth, the fetus has a well-developed vestibular system that gives him his sense of space - living much of the time upside-down in a right-side-up world.

Most of our vestibular system comes from the structures of the inner ear - called such because it is right next to the cochlea - specifically, semicircular canals and otolith organs, which are lined with tiny hairs called cilia that transmit electrical impulses to brain. This vestibular system allows babies to somersault into a head-down position right before birth. (Babies with vestibular problems are likely to be born breech.)

Interestingly, balance problems in babies can be linked to later emotional and cognitive problems. Antibiotic use by the mother during pregnancy may be one culprit for this.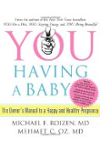 Continue Learning about Fetal Development Basics & Pregnancy