Omega-6 fatty acids are proinflammatory, because they are broken down by the body and converted into prostaglandins and other inflammatory proteins. These proteins cause inflammation. In fact, steroids and nonsteroidal anti-inflammatory drugs (NSAIDs), such as ibuprofen and naproxen, work by blocking the formation of these same inflammatory proteins.

Omega-3 fatty acids are also converted into inflammatory proteins, but this conversion takes place much more slowly, so that the body's natural mechanisms of breaking down inflammatory mediators occur before inflammation has a chance to take place. When you consume omega-6 fatty acids, inflammatory proteins are built so quickly that the body's natural process of metabolizing them is overwhelmed, and inflammation and its symptoms are much more likely to occur. Unchecked inflammation may be a factor in the development of a number of diseases, including heart disease. Obviously, ingesting substances that create more inflammatory proteins in the body is not good for people struggling with arthritis.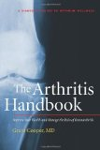 Continue Learning about Fats
At 9 calories per gram, fats can add up quickly in your diet, yet experts recommend that you get only 7% of your calorie intake from fat. Fats also affect your cholesterol, and there are both good and bad fats. The best kind of fa...
ts are called unsaturated fats, and can be found in oils like olive and canola oils, nuts and seeds. These fats can help your body get rid of cholesterol. Saturated fats often have had hydrogen added to them to make them more solid. Other saturated fats are found in cream, butter and meats. They can raise your blood cholesterol. Its wise to learn which is which and check nutrition labels to make proper choices.
More