You've already heard plenty about DHA, the great-for-you omega-3 fatty acid in fatty fish and algal- or fish-oil supplements. Now, new research suggests that omega-7s are a healthy fat with amazing powers, too. Omega-7s squelched heart-threatening LDL cholesterol and triglycerides, boosted ticker-friendly HDL, decreased fatty liver, and improved cells' ability to take in blood sugar in several well-designed studies.
Omega-7, known as palmitoleic acid, may appear to have minor status in the world of monounsaturated fats but its health benefits are hardly such. Omega-7 helps regulate fat and blood sugar metabolism (in adipose tissue and in the pancreas). In vitro studies suggest that omega-7 helps improve the function of the insulin-producing beta cells of the pancreas. And when it comes to the skin, omega-7 is no minor leaguer -- it's a major fatty acid in epithelial cell membranes. This means skin, blood vessels, and mucous membranes. The presence of omega-7 in the epithelial cell membrane plays a protective role including inhibiting bacterial growth, as well promoting tissue recovery and healing.

Research specifically on sea buckthorn oil, (which contains 30 to 40 percent omega-7), shows its role in improving eczema, acne, oral and stomach ulcers, and vaginal irritation/dryness. Common dietary sources of omega-7 fatty acids include wild salmon, macadamia nuts, and sea buckthorn berries.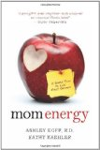 More About this Book
Mom Energy: A Simple Plan to Live Fully Charged
       From celebrated dietitian Ashley Koff and fitness trainer to the stars Kathy Kaehler comes Mom Energy, an exciting new way for moms to tap into their own natural and renewable sources of...
Continue Learning about Fats
At 9 calories per gram, fats can add up quickly in your diet, yet experts recommend that you get only 7% of your calorie intake from fat. Fats also affect your cholesterol, and there are both good and bad fats. The best kind of fa...
ts are called unsaturated fats, and can be found in oils like olive and canola oils, nuts and seeds. These fats can help your body get rid of cholesterol. Saturated fats often have had hydrogen added to them to make them more solid. Other saturated fats are found in cream, butter and meats. They can raise your blood cholesterol. Its wise to learn which is which and check nutrition labels to make proper choices.
More