Exercise is a great way to lose weight, but it's only part of the equation. If you're trying to lose weight, exercise, diet, practicing good habits, and a living healthy lifestyle all form the basis for losing weight.
Exercise is one component of weight loss. Combined with proper diet and adequate sleep, exercise can produce weight loss. Eating properly will ensure that you have the correct nutrients for your body while providing you with the energy needed to exercise. By expending more calories (through daily activities and exercise) than you eat, you create a caloric deficit which will cause your body to use its internal fat stores for energy.

As with any fitness goal, you should make realistic and achievable weight loss goals including the amount to lose and the time in which the weight will be lost. Working with a personal trainer or your physician can help you set attainable goals so that you can lose weight safely.
Exercise is an excellent way to lose weight, however it is one part of a two part process. Exercise combined with a healthy nutrition program is the best way to be successful in your weight loss. Most of us have had no nutritional guidance since the food pyramid in a health class from our school days. Honestly, we do not understand the difference between good and bad nutrition. We know we get hungry so we eat, and usually eat too much. When you start your exercise program, start keeping a food journal. Be accountable for everything you eat, write it down. Your exercise program will help you burn calories, so burn more than you consume and you will lose weight.
Most of the 1 million calories you consume every year are burned without you ever thinking anything of it. It takes energy for you to breathe and sleep, and for all of your organs to function. The energy you consume and store is used primarily to power your anatomical systems and structures. Only 15 to 30 percent of your calories are burned through intentional physical activity such as exercise, walking, or doing the wumba wumba on your anniversary. So while you may think that spinning class or bikram yoga are the primary pathways to frying fat, physical activity is only a fraction of it. You burn the rest of your calories keeping your heart pumping, your brain remembering your spouse's birthday, and your liver disposing of last night's vodka concoction.

That said, however, of the reasons why exercise is so good for you is that it takes your body's energy stores from fat, rather from other energy stores in your body such as your liver and muscles.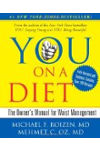 Continue Learning about Exercise For Weight Loss