The truth is that by and large, the active agers and athletes who come into my office with repetitive injuries are stiff as boards! Their hamstrings, their calves, their shoulders, and their backs are all stiff. This perpetual tightness often leads to injury and frustration. These people are not limited by the number of years they have lived but by the length of their muscles. It doesn't have to be this way. You grew these muscles and you can make them perform for you in just 15 minutes per day!

Flexibility is the ability of muscle to lengthen and allow your joints to move through a full range of motion. Maintaining muscle flexibility increases athletic performance, improves running economy (decreased energy expenditure at a given speed), prevents injury, decreases soreness, and hastens rehabilitation following injury. In their relaxed state, muscles and the tendons that attach them to your bones are "crinkled" up. (This is literally the scientific term for their accordion-like resting state.) When they are in a chronically shortened state, muscles and tendons prevent our joints from moving through their full range of motion, which changes the way we walk, our posture, and, among other things, our golf swing (heaven forbid). Not only this, but stiff muscles and tendons are like the old dried out rubber bands you find in the back of your desk drawer. One pull and these brittle old elastic bands "pop." Muscles are elastic bands, and when stiff, they are also more likely to "pop" and sideline us with injury.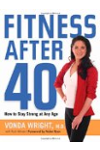 More About this Book
Fitness After 40: How to Stay Strong at Any Age
It's one of the undeniable facts of life. After we reach a certain age, our bodies change. No matter how fit we may have been at 20, we're very different people after 40. But growing older doesn't...
Continue Learning about Exercise & Muscles